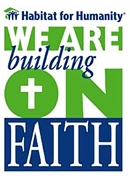 Monadnock Habitat for Humanity ~ A Christian Ministry
The Faith Relations Committee of MHFH serves as a link between faith organizations throughout the Monadnock region and the affiliate. As we work to provide affordable housing, we strive to uphold the values as stated in our Mission, Vision and Values Statement that was adopted in 2010.
A Christian ministry calling churches to action.
Partnering with faith organizations helps MHFH fulfill our mission to demonstrate the love and teachings of Jesus Christ as outlined in our covenant. Churches provide essential prayer support and invaluable resources that help serve families in need of housing.
MHFH Welcomes People of all Backgrounds
Like the national organization, we also have an open door policy: All who wish to be a part of this work are welcome, regardless of religious preference or background. We build with people of need regardless of race or religion and welcome supporters and volunteers from all backgrounds.
A Special Event to Celebrate Partnerships with Faith Organizations
Each year, Habitat for Humanity International celebrates Building on Faith, a special celebration of Habitat's partnership with the faith community. It is a time for mobilizing the faith community to build or renovate houses as an expression of God's love.
International Day of Prayer and Action for Human Habitat
Building on Faith is also connected with the International Day of Prayer and Action for Human Habitat, traditionally celebrated on the third Sunday in September. The Day of Prayer began in 1983 with the intent of making housing a matter of conscience – to place in the hearts, minds and souls of people everywhere the idea that poverty housing is unacceptable. On this Day of Prayer, the entire Habitat for Humanity community is encouraged to celebrate this day by:
Using special HFHI church bulletin inserts called Prayer for Community
Shaping the worship service around God's call to serve one another
Offering prayer for people in need of shelter & for those who respond to that need
What Can My Church do?
The Faith Relations committee of MHFH is currently inviting area churches, synagogues, and other faith organizations to join us in a covenantal relationship. Please click on this link, Covenant Agreement, to learn more about how your faith organization can put "Love into Action" by partnering with Habitat.
The following is a list of churches that have signed a covenant agreement with Monadnock Habitat for Humanity:
• The Federated Church of Marlborough, Marlborough, NH
• The Keene Church of the Nazarene, Keene, NH
• First Baptist Church of Keene, Keene, NH
• Grace Community Evangelical Free Church, Spofford, NH
• Mary, Queen of Peace Parish
• St. Joseph Church, Hinsdale, NH
• St. Stanislaus Church, Winchester
• Monadnock Covenant Church, Keene
• Parish of the Holy Spirit
• Immaculate Conception Church, Troy
• St. Bernard Church, Keene
• St. Margaret Mary Church, Keene
• St. John's Episcopal Church, Walpole
• United Church of Christ, Keene
• Walpole Unitarian Church, Walpole
Please continue to pray for the work of our affiliate and for all Habitat affiliates around the world. Offer to provide volunteers for building or home repair projects, provide information about available land, or serve on a committee.
For more information about the Faith Relations committee, contact the local office at mhfh@nh.acadia.net or (603)-357-8474.